// We revised the map and numbers of the Central Europe deeptech ecosystem thanks to contributions and recommendations on 17th October.
The term "deep tech" has become a household one. Tourist investors (and generalist VCs) started researching such startups. The second quarter of 2022 investment in Poland was boosted by number of deep tech investments, so just to remind you the stats:
Polish Development Fund reports one-third of the ten largest Q2 investments went to deep tech (if we use the definition we use on a daily basis; more than two-thirds using a broader one). 40% in the TOP5 of 2022. Recent announcements include the EU's Innovation Agenda and NATO's Deep Technology Fund. Even with France's elevation to "Centre of deep tech" or Swiss's abundance of university spin-offs, investors are increasingly watching Central European startups. EuraTechnologies raised $24 million to build university incubators across CEE.
We define a deep tech startup as one with high scientific or engineering risk and product-market fit risk. We can't term a startup "deep tech" if only one of these elements is present. Here you can learn more about our approach.
There are over 265 deep tech startups in Central Europe:
38 active deep tech startup in Czechia;
39 teams developing their high tech solutions in Hungary;
over 162 startups in Poland;
and 26 in Slovakia.
Deep tech trends in the region:
Poland — the largest deep tech ecosystem in the region. The quantity of Chemistry-originating solutions in Advanced Materials and Applied Chemistry is noteworthy for Poland. The above are key sectors among Polish university spinoffs, and we can only expect them to expand the deeptech group in that field in the map's future editions. Other areas include Medtech and varied examples of Civil Engineering deeptech uses.
Hungary — Hungarian deep tech startups significantly contribute to medtech solutions, the country also seems to be lacking the deep tech investors with the largest contributor being Hiventures, a state-owned venture capital company with capital of HUF 50 billion that has invested in the majority Hungarian companies included in the map
Slovakia — despite having 10x smaller ecosystem keep ups with semiconductor industry of Poland, it is the CEE Leader in FDI and technology transfer — the best ability to adapt new technologies
Czechia — established the position in aerospace as well as significantly contributes to Human-Computer Interaction solutions. Czech universities have a fair share of their spin-offs included in the map.
Unicorns — there are still no deep tech unicorns in the region
Major Funding Rounds — in 2022, leading funding rounds in the CE Deep Tech ecosystem included ICEYE (€140M), Nomagic (€23M), Talkin' Things (€21M), Linear Labs (€18M), Codasip (€15M), Sunroof (€15M), Nevomo (€15M), GA Drilling(€12M), The Batteries (€7M), PayEye (€3M).
Startups launched between 2013-2019 dominate the 2022 landscape – typically for the extended R&D phase in deep tech. As deep tech startups scale and solve global challenges, several have moved abroad or sought international investors. Many of them still have national investors, thus they're included in the list.
ICEYE — originated from the university nanosatellite group Aalto-1, investors include both Polish and global funds
Nomagic — has closed its recent with Polish and Western funds
Tachyum — has opened offices in the US
Linear Labs — has raised a major investment round from high profile Silicon Valley
(Click on the graphic for full size, table with data available upon request )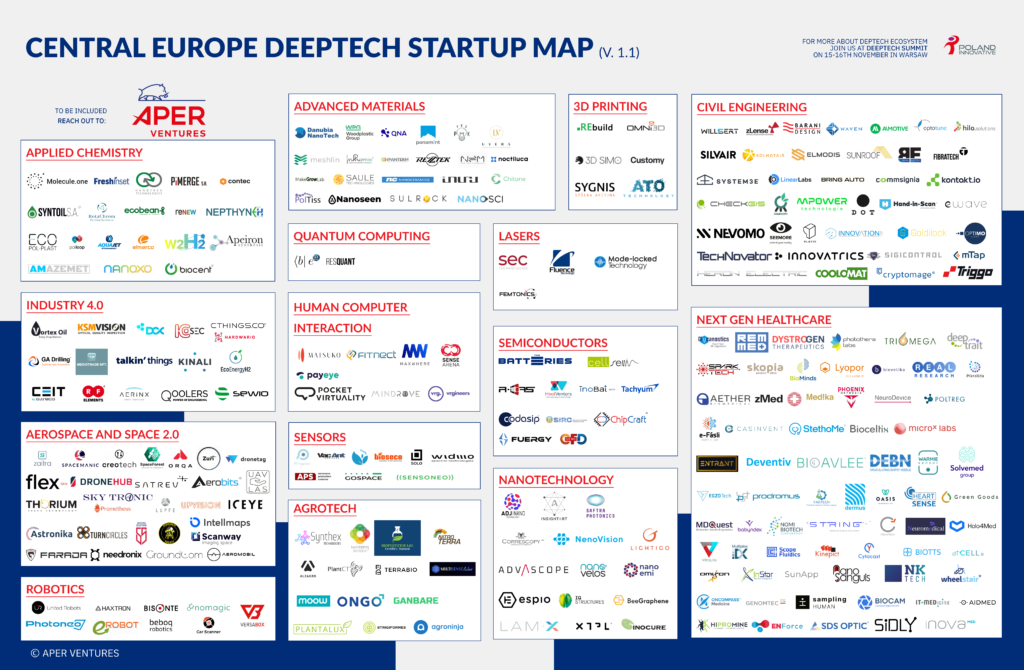 Applied chemistry, civil engineering, aerospace and space 2.0, and medical technology are the most common fields in which deep tech solutions are created. Among the most popular applications of deep technology, climatech is actually fairly diverse. Climate-friendly automobiles, multiple hydrogen solutions, and recycling methods based on applied chemical patents are just a few examples of the many possible solutions – the only missing subcategory are nuclear solutions fairly popular in other deep tech landscapes. For this reason, you won't find them clustered in one category but rather dispersed over the narrower industries.
To learn about and network with deep tech ecosystem key players join us for the Deep Tech Summit on 15-16 November in Warsaw. It connects and educates investors, startup founders, managers, entrepreneurs, scientists and international partners. The event is organised by Polska Innowacyjna. Together with The Batteries, Aper Ventures is the partners of the event.
Aper Ventures backs deep tech and hardware firms with global potential. The team launched Meta Ventures in 2014 with 100 million PLN, investing in 20 companies. As of 2019, it invests under Aper Ventures alongside Aper Angels' network. The fund has invested 50 million PLN of its 130 million in assets since 2019. The Batteries, Reef Factory, and Talent Alpha are its companies.
To learn more about our mindset behind deep tech investment learn about our portfolio company – The Batteries. 
If you're interested in learning more about deep tech, follow us on LinkedIn.