We have prepared a subjective list of the most impactful deep tech events back in 2022 in Europe with particular highlights of the CEE region. From groundbreaking research and technological advancements to key conferences and partnerships, these events have shaped the deep tech landscape and will continue to drive innovation in the field for years to come. 
We hope that this list will provide insight and inspiration for those interested in staying up-to-date on the latest developments in deep tech.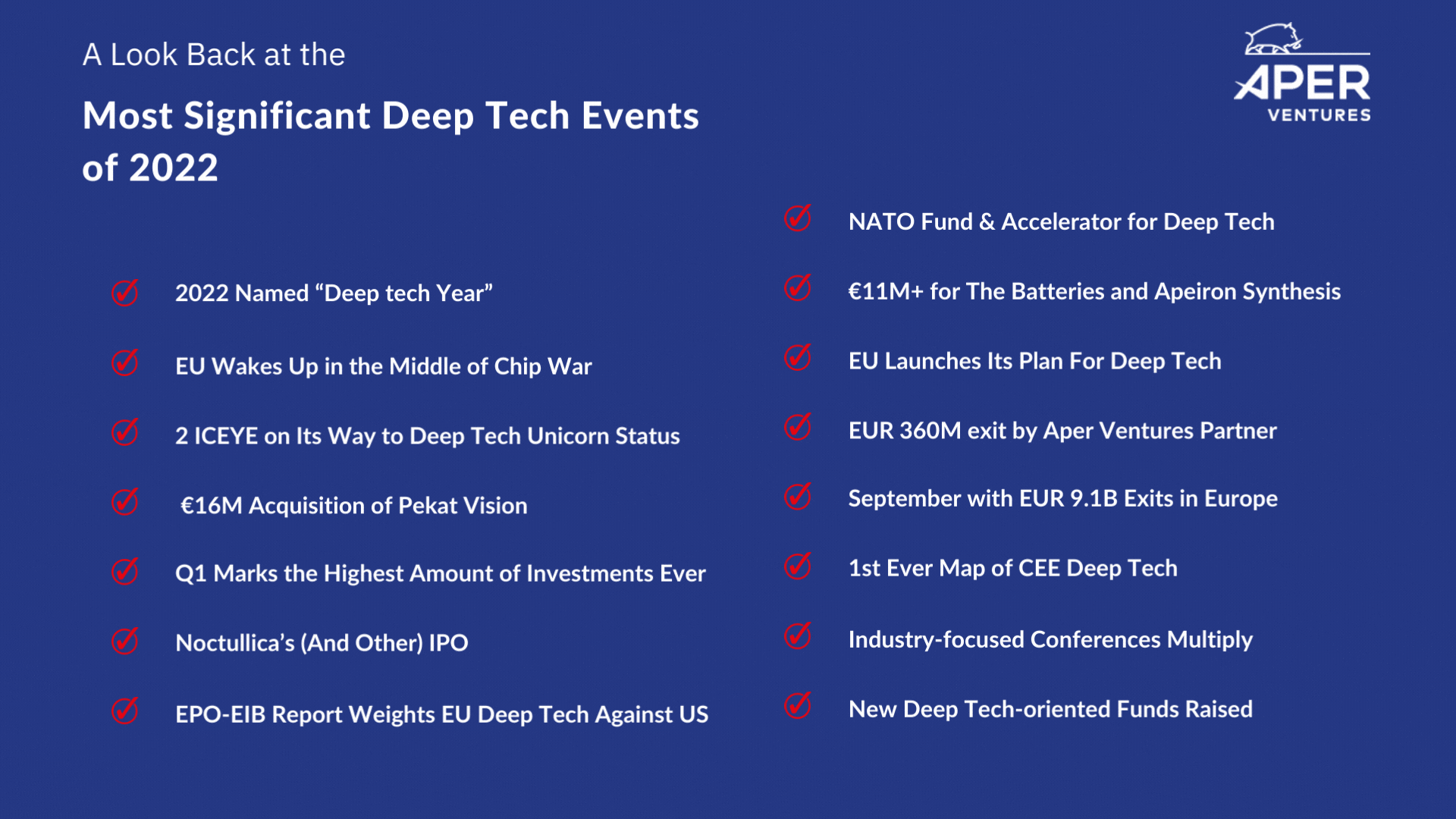 1. 2022 named "Deep tech Year" 
2022 is predicted to be a significant year for deep tech, with experts forecasting significant growth and development in the field. This prediction has become a self-fulfilling prophecy, leading generalists to turn their attention towards deep tech as the development of new materials and technologies poised to make a major impact in 2022 and beyond.
2. EU wakes up in the middle of chip war
In February 2022, the Commission proposed a proposal for an EU chips act aimed at boosting the entire EU chips value chain, against the backdrop of worldwide chip shortages, a global 'subsidy race' in the world's primary producing countries, and a revitalised EU industrial policy.
3. ICEYE on its way to deep tech unicorn status 
ICEYE, has raised USD 136M in a Series D funding round. This significant event in the deep tech industry will help the company continue its work on advanced satellite imaging services. By mid August the company was supporting the Ukrainian government in its war against Russia – yet another critical point on the deep tech timeline.
4. The EUR 16M acquisition of Pekat Vision
Datalogic, a company listed on Euronext Star Milan of Borsa Italiana, announced back in March acquisition of the entire share capital of Czech Pekat
5. 22'Q1 marks the highest amount of investments in deep tech history
Q1 of 2022 has been a historic year for the CEE deep tech, with the highest ever investments worth 82.9 million euros being made in the industry. Few months later we discover that 2022 is the record year (even before it ends!)
6. Noctullica's IPO
The Polish stock exchange seems to become a "must-do" for Polish deep tech startups, with many companies in the industry turning to the exchange as a source of funding and a platform for growth with the VC ecosystem still developing and raising funds. And the debuts seem to be beneficial both for the companies and investors with Noctiluca's shares rising by 154% and SDS Optic's by 29%, while HiProMine's shares falling only by 12%.
7. New EPO-EIB Report Compares Deep Tech Innovation in Europe and the USA
Despite significant patent activity, the EU bloc has the lowest level of specialisation in 4IR technology innovation when compared to its overall innovation capabilities. The most specialised in the industry are the top global innovation hubs, which include the United States, Japan, China, and South Korea. There was not a single CEE representative in the top ten.
8. NATO decides on launching fund and accelerator for deep tech start ups
The Fund will invest 1 billion euros in early-stage start-ups and VC firms developing NATO-priority dual-use technologies and support DIANA, which will promote the development and adaptation of dual-use emerging technologies to critical security and defence concerns.
10. Investment in The Batteries and Apeiron Synthesis
The Batteries and Apeiron Synthesis have received investments worth EUR 10M combined, connecting six co-investors (three of them CVCs) from multiple industries. They had to be included on the list due to years of development of technology in truly deep tech fashion – more about our reasons you can find HERE and HERE.
11. EU launches its plan for deep tech and nobody is happy
The EU has launched its plan for deep tech, but the response has been mixed, with many stakeholders expressing discontent with the proposal. With a relatively small budget, ambitious hiring goals and multiple hubs, it seems like the only upside is the growing popularity of the term "deep tech" among journalists.
12. EUR 360M exit from Bia Separations benefits Aper Ventures partner
Bia Separation has been acquired by the German company Sartorius, with the deal worth EUR 360M. A long-term partner in Aper Ventures, Luigi Amati and META Group, which he presides over, was one of the beneficiaries.
13. September marks the highest value of exits in European deep tech 
After a VERY calm summer, September has seen the highest value of exits in European deep tech – estimated to be around EUR 9.1B solely in the manufacturing branch of deep tech, with numerous companies in the industry successfully exiting and achieving significant financial returns.
14. First ever map of CEE deep tech launches
After years of focusing on startups from tech capitals like Paris, Oxbridge, and London, we have gathered data and created the first ever map of CEE deep tech launches. If you haven't read it – you have a chance HERE.
15. Deep tech focus events spread across the continent
Deep tech focus events are being held across the continent, including in Warsaw and the Nordics, bringing together experts and thought leaders from around the world to share insights and ideas on the latest developments in the industry
16. Deep Tech Captures the Attention of The Largest, New Venture Capital Funds
The number of VCs and CVCs who decided to include the deep tech business on their ticket grew dramatically this year, notably with many new funds launched. To name a few, the Polish Fund OTB is worth 50 million euros, Earlybird is worth 350 million euros, and CVC RBVC is worth 250 million euros.
As we come to the end of this blog about 15 things that happened in deep tech, we could miss the honourable mentions – discoveries and developments that have taken place in the industry over the past year.
From DeepMind launching AphaFold2, which can predict the shape of proteins with nearly 100% accuracy and biotech boom to first time ever reaction that generated more energy than it consumed, The James Webb Telescope photographies and carbon removal factories, deep tech has made a significant impact on a wide range of industries and sectors. 
We hope that this list has provided insight and inspiration for those interested in staying up-to-date on the latest developments in deep tech, and we look forward to seeing what the future holds for this exciting and innovative field.
About Aper Ventures
The fund supports deeptech and hardware startups that demonstrate proven competitive advantages and significant global potential. Originally, the team has managed founded in 2014 as a 100 million PLN Meta Ventures, investing in more than 20 entities. As of 2019, it makes investments primarily under Aper Ventures with support of network from Aper Angels. The value of its assets under management is around 130 million PLN, of which only since 2019 the fund has invested 50 million PLN. It has three companies in its portfolio: The Batteries, Surge Cloud and Talent Alpha.
If you believe that your company might be a good fit to our portfolio, tell us a little bit about your business and your team. We typically have a lot of applications so give us some time to respond → SUBMIT AN APPLICATION